KIAF 2020 introduces Film Craft jury members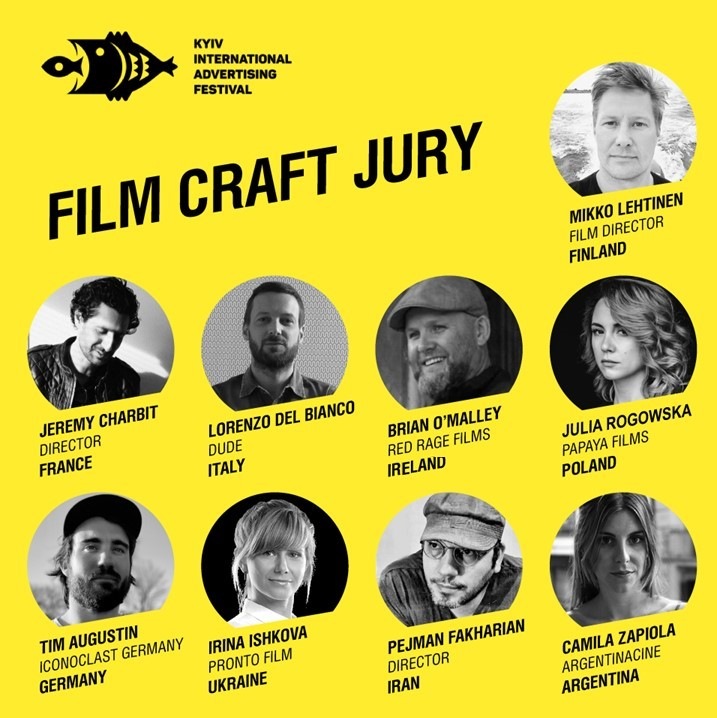 The annual Kyiv International Advertising Festival, which is open to everyone involved in advertising, production, media, PR, design, and creative all over the world, announces the jury team of the Film Craft contest.
Meet the members of the Film Craft jury:
• Jeremy Charbit, Director, France
• Lorenzo Del Bianco, CEO, Founder, DUDE, Italy
• Julia Rogowska, Director, Papaya Films, Poland
• Tim Augustin, Producer, Iconoclast Germany, Germany
• Irina Ishkova, Executive Producer and Partner, Pronto Film, Ukraine
• Pejman Fakharian, Director, Creative Director, Iran
• Brian O'Malley, Director, Red Rage Films, Irland
• Camila Zapiola, Director, Argentinacine production company, Argentina
• Mikko Lehtinen, Film Director, Director and Founder of Sauna International, Finland
The KIAF Organizing Committee invited only the best representatives of the industry to judge the Film Craft contest. Executive producers, leading directors and film makers – people with many years of experience, innovative thinking and a professional look at their work will evaluate the work of Film Craft and determine who deserves awards and the highest award – the Grand Prix of the contest.
In the Film Craft contest in the project the most important is not the creativity and originality of the solution, but the mastery of implementation and the technical aspects of the project are well maintained. The works will be evaluated on the basis of professional direction, an interesting script, cinematography, high-quality sound design, spectacular animation, visual effects, etc. Do not lose the opportunity to receive comments on your ideas from leading industry experts.
It was announced teams: Film, Radio & Audio, Advertising Campaign Jury, Design & Branding, Print, OOH Jury, Digital & Mobile, Media, Branded Content & Storytelling Jury.
We remind you that the deadline for submitting works is on April 24, and you can register your work at kiaf.com.ua